---
Salmon Fishing Courses




in association with

Hardy Greys
---
Hardy Salmon Spey Casting Course
All you need to know about fishing for Salmon.
------------------------------------------------------------------------
Three Day Spey Casting Course
Riv

er Nith - Scotland
Please email me for details.
If you have never fished for Salmon before or have had a go and found your casting needed improving, then this salmon fishing course is for you.
During the 3 days you will learn all you need to know to start salmon fishing; here are just some of the areas we cover:
Safety – both wading the river and on the bank

The Equipment - different types of rods, reels, lines, and other helpful items like nets, wading staff and safety vests

The Casts You Need To Catch Fish In All Conditions -the casts we teach will mean you can cover most salmon rivers with ease. These include: the roll casts, single and double spey casts and the overhead cast plus some of the more advanced casts.

The Flies For All Seasons - the main patterns to look for and how to tie them (an evening session).

Knots - the main type used in salmon fishing; how to tie them and when to use them.

Reading The Water - a study of where the fish can be found in the river.

How to use the casts you have learnt to present the fly to them.

Catching and landing a fish with or without a net.

How to return the fish to the water properly.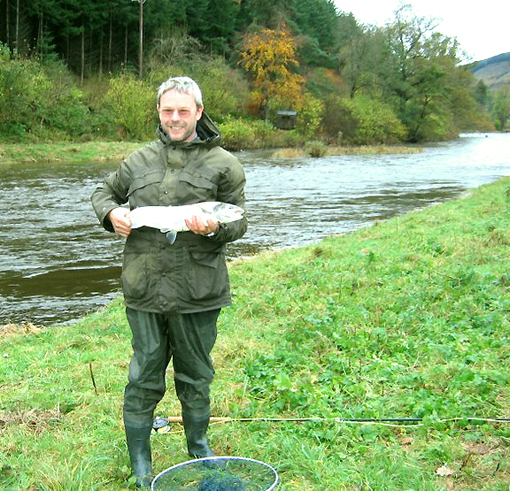 What fishing gear to bring: Hardy Grays provide the outfits for the course (rod, reels & lines). We recommend that you use chest waders if you have them; if not we can provide those as well (please indicate chest & shoe size at the time of booking). If you have your own salmon tackle please feel free to bring it with you.
You will be staying in a hotel near the river and there will be a room booked for you the night before the start of the course. This will be on a dinner bed & breakfast basis for 3 nights and included in the price is a packed lunch on the river bank each day. If you wish to bring a non fishing partner you are most welcome and their accommodation will be at cost. A full itinery and joining instructions for the course will be sent to you.
Please email me for details.
---